2015 R&D magazine Award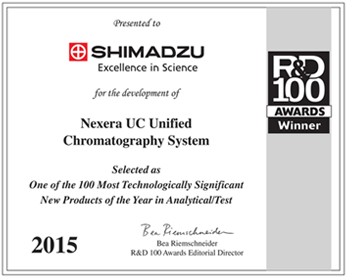 The award from R&D magazine recognizes Shimadzu's Nexera UC system as one of the 100 most technically significant new products of the year in the analytical and testing category. R&D Magazine chose the Nexera UC system because its fully automated technology opens up new analytical opportunities in many fields, including food products, drug discovery and delivery, chemicals, pharmaceuticals, and cleaning validation. With industry-leading throughput and superior levels of sensitivity, the system eliminates the need for complicated sample pre-treatment and reduces the possibility of human error during analysis.
Pittcon Editors' Gold Award 2015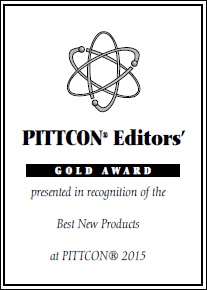 The Pittcon Editors' Awards recognize the most innovative products presented at Pittcon for the first time based on votes by the media corps. Editors awarded the Nexera UC for its ability to provide a workflow solution that addresses the bottleneck in real-world sample analyses.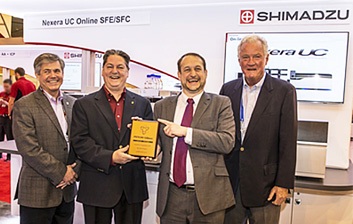 Starting from left:
Terry Adams, VP Marketing, Shimadzu Scientific Instruments; Bob Clifford, Marketing Manager, Food, Shimadzu Scientific Instruments; Stefan Fritsch, editor Instrument News; Bob Stevenson, editor American Laboratory magazine. (Photo provided by: Roy Engelbrecht, ngelbrecht Studios)
For Research Use Only. Not for use in diagnostic procedures.
This page may contain references to products that are not available in your country.
Please contact us to check the availability of these products in your country.