Dioxins & PCBs Clean-up system
MIURA GO-2EHT / 4EHT / 6EHT
As European distributor for MIURA Co. Ltd, we are offering the revolutionary GO-EHT series sample clean-up systems for dioxins and PCBs (polychlorinated biphenyl) sample preparation.
Miura Institute of Environmental Science focuses on survey and measurement of environmental contaminant levels and works on development and commercialization of treatment technology for environmental contaminants such as dioxins and PCBs (polychlorinated biphenyl).
MIURA is developing 'green technology', thus sharing common goal with Shimadzu Corporation, to offer purification of different type of sample such as food and feed, as well as other sample like soil, sewage, sludge, and many more, with minimum impact on our environment.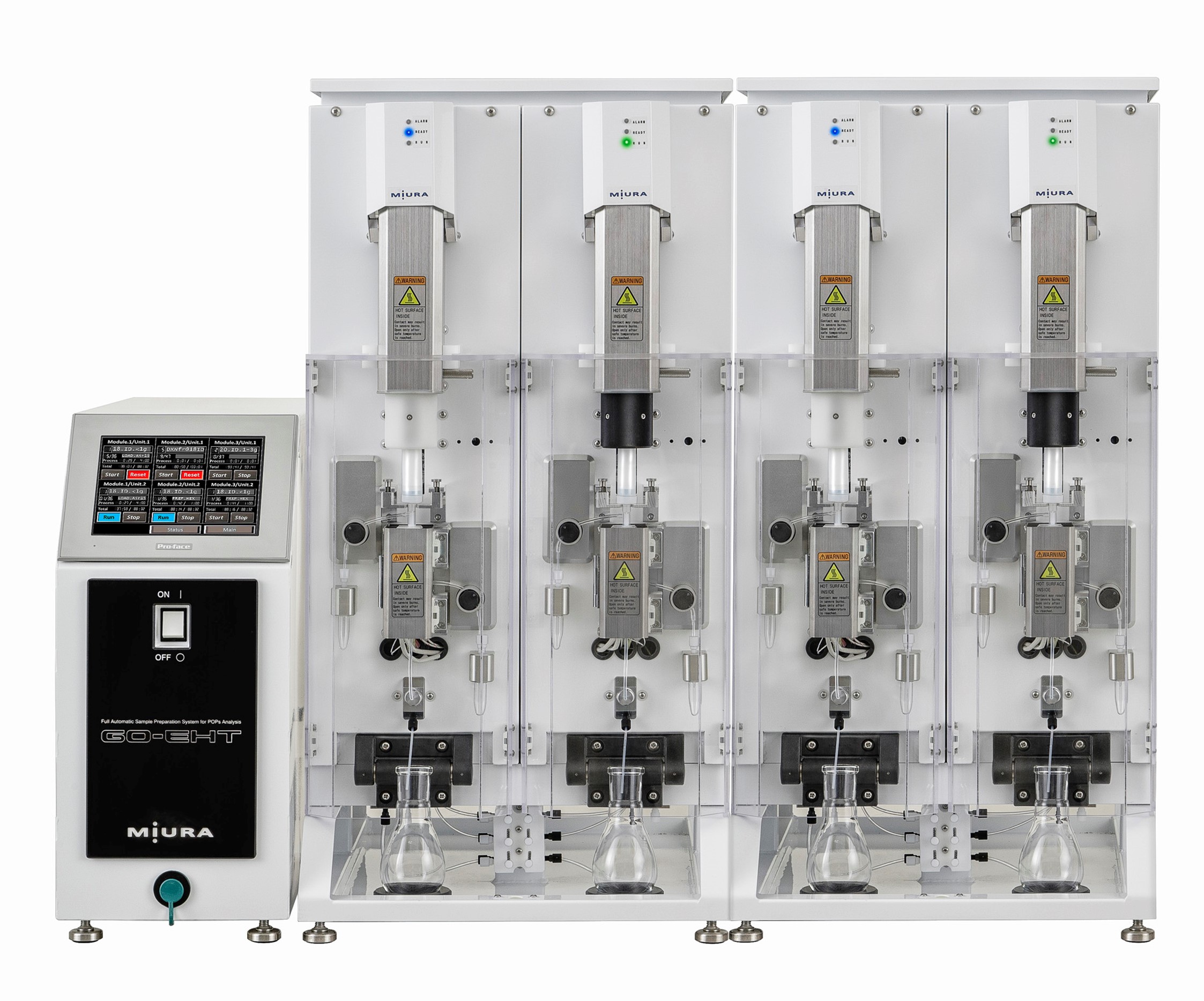 Features
The GO-EHT systems are offering numerous benefits to improve your laboratory efficiency and cut down time needed for return of investment (ROI).
Thanks to a valve less design and "one use" column set, the GO-EHT series from MIURA is offering a unique solution where risks of cross-contamination are eliminated
No valves in the sample flow path, nearly no tubing and consumables columns means reduced dead volumes ending up with less solvent consumption. Adding that no chlorinated solvent are needed, you can easily reduce drastically your solvent costs as well as your solvent recycling budgets!
The Sample purification for dioxins and PCBs is more flexible and faster than ever. With a combination of modules of 2 column's sets which can be ran independantly, the system adapts easily to your stream of sample.
Three versions available
With three versions available - 2, 4 or 6 columns in parallel - the GO-EHT system increases the sample clean-up stream while reducing solvent consumption and eliminating cross-contamination inherent to older existing technology.
Complete solution with extraction throughput, clean-up and analysis
To offer a complete solution for the stream of analysis, the companies Shimadzu, MIURA and BUCHI Laboratory Equipment partnered to offer the most powerful solution for extraction, clean-up and GCMS analysis on the European market. The solution DIOXINS S3 is combining the SpeedExtractor E-914 / E-916 for extraction throughput, the GO-EHT for clean-up and the GCMS TQ-8050 for analysis of dioxins and PCBs samples fulfilling the new EU 589/2014 regulation.

The SpeedExtractor E-914 / E-916 as well as evaporation solutions have to be purchased at BUCHI Laboratory Equipment
The GO-EHT and GCMS can be purchased at your local Shimadzu office or distributor