Introduction to Optional Software
Fingerprint Verification Option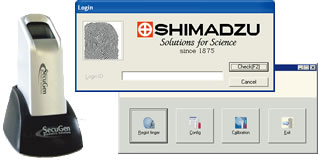 Biometric user authentication
This optional software allows user CLASS-Agent verification using fingerprint verification.
This software conforms with US FDA 21 CFR Part 11 (Electronic Records and Electronic Signatures * Supplement) biometric verification rules that is an important topic for the pharmaceutical industry. Fingerprint verification eliminates the tedious requirement to enter passwords and solves the problems of passwords leaking to other parties. The sophisticated ID and password management system considerably reduces the workload of the system administrator.
Compatible with the CLASS-Agent Series, LCsolution, GCsolution, and UVProbe.

Operation Flow
Biometric Fingerprint Verification System
Instead of user authentication using conventional user ID and password, this system uses fingerprint information to recognize and authenticate users.
More convenient
The user simply places a fingertip on the fingerprint reader for user authentication. This eliminates the troublesome tasks of saving and periodically changing IDs and passwords.
Enhanced security
Conventional IDs and passwords can be leaked to other people. Fingerprint verification prevents the stealing or sharing of IDs and passwords to ensure reliable user authentication. Fingerprint information is protected in a sophisticated security environment by SecuGen 128-bit encryption algorithm technology and Shimadzu's unique key encryption.
Compatible with the Shimadzu User Authentication Tool
Operating Environment
The following software and hardware is required to run fingerprint verification:
1. CLASS Agent Manager Ver.2.3, or higher
2. USB 1.0 conformity
3. Fingerprint reader (manufactured by SecuGen)
CLASS-Agent Report
CLASS-Agent report-generation tool

CLASS-Agent Report is a newly developed report-generation tool that applies the CLASS-Agent sophisticated export functions.
CLASS-Agent Report can save efforts to generate reports using analyzed data from Microsoft Excel®. It saves effort and complies with the US FDA 21 CFR Part 11 (Electronic Records and Electronic Signatures) rules.
Once data is registered in CLASS-Agent, reports can be generated by identical operations, whether the instrument is an HPLC or GC.

Outline
Operation Flow
Continuous, automatic management in the CLASS-Agent database for templates and reports.
Simple System Configuration
Report templates can be created quickly by reusing existing Excel® worksheets. The templates created can be easily registered in the database using the Database Registration Tool to be managed securely.
Efficient Report Generation
Simply select analysis data and report template registered in the CLASS-Agent database to automatically generate a report. This eliminates manual input and saves the efforts of report generation and checking.
Automatic PDF Creation
A PDF file is automatically created when the Excel report file is created.
The PDF files offer excellent portability and can be efficiently transferred as electronic reports.
Automatic Database Registration
The generated reports are automatically registered in the database for secure storage. Required reports and analysis data can be rapidly searched using the accompanying information that is automatically registered at the same time as the report.
Supports Electronic Signatures
Standard CLASS-Agent Manager functions can apply electronic signatures to reports.
Common Operations Regardless of the Analytical Instrument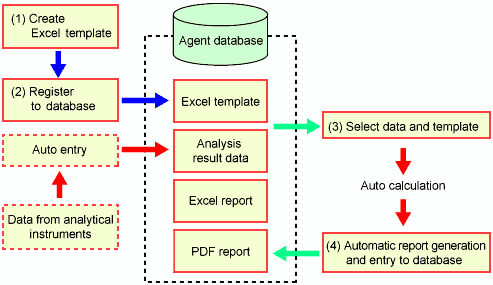 Template Registration Window
The CLASS-Agent Report registers the created Excel® templates to the database.
Example of a Created Report
Operating Environment
The following software is required to run fingerprint authentication:
1.CLASS Agent Manager ver.2.3, or higher
2.Microsoft Excel® 2000,XP,2003,2007
3.Adobe Acrobat 5,6,7,8
CLASS-Agent Web Manager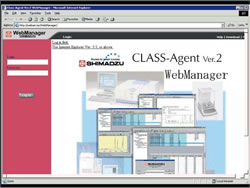 CLASS-Agent Web Browsing System
Installing the optional CLASS-Agent WebManager in the server PC permits browsing of the analysis data, without the need to install special browser software in the client PC. The data saved in the CLASS-Agent database can be browsed using only Internet Explorer®.
This permits not only low-cost system configuration but saves significant work on software validation after upgrades.
System Configuration CLASS-Agent Web Manager retrieves the data designated by the Web Client from the database, converts it to a format (HTML) that can be displayed by Internet Explorer®, and returns it to the Client when requested. The Web Server and Database Server can be hosted on the same PC or on different PCs. There is no limit on the number of PCs that can browse the data. Data can only be browsed by users registered in the CLASS-Agent User Manager.
Operating Environment
CLASS Agent Manager ver.2.3 or higher is required to run CLASS-Agent Web Manager.
CLASS-Agent LIMS-Assist
CLASS-Agent LIMS-Assist is optional software that helps build and connect to LIMS (laboratory information management system). LIMS-Assist provides the functionality that enables receiving analysis schedule information based on test instructions from the LIMS and sending analytical results information using SEND LIMS.
Supports Connecting to LIMS and Offers Extensive Customization Functions
Supports connecting to LIMS in both directions. Automatically populates analysis schedule information sent from LIMS into tables for continuous analysis in LC/GC workstation software. A wide array of customization functions based on settings are available, such as transmitting approved analytical results data.
Integrated LIMS Connection Interface
CLASS-Agent integrates the management of data from analytical and measuring instruments. This eliminates the need for a separate interface for each analytical or measuring instrument. The LIMS connection interface is integrated as well.
Interface Includes Sending/Receiving Functions
The interface includes features for receiving analysis schedule information from the LIMS and sending analytical results to the LIMS.
Provides High Security Data Management
Electronic record data for analytical and measuring instruments is managed securely using CLASS-Agent, which has a proven track record of compliance with FDA 21CFR Part 11.
Process Flow
Operating Environment
LIMS-Assist software must be installed on a computer with specifications suitable for a Web server. For more details and pricing, contact your Shimadzu sales representative.
This page may contain references to products that are not available in your country.
Please contact us to check the availability of these products in your country.