Intelligent Peak Deconvolution Analysis (i-PDeA II)
What Is i-PDeA? – An Introduction Through Application Examples –
Intelligent Peak Deconvolution Analysis (i-PDeA) is a data analysis technique that extracts a single peak from co-eluted peaks and quantitates it by exploiting the differences in spectra between each compound.
i-PDeA II enables users to visualize and detect a minor single impurity even when the impurity is co-eluted with an analyte. It also facilitates the separation of hard-to-separate peaks on the column through computer processing and deconvolution of the spectrum information, which reduces the effort required to investigate separation parameters.
The following highlights some benefits of i-PDeA II through application examples.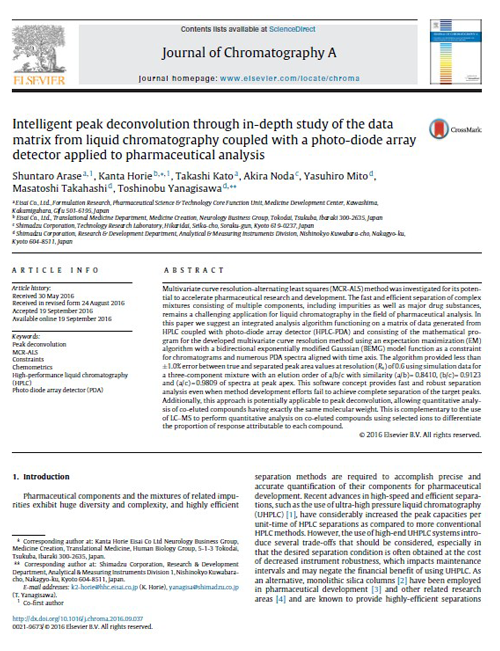 This article was published in J. Chrom A, 1469, Arase, et.al., 35-47, Copyright Elsevier (2016).
Example 1: I have developed an ultrafast analysis method, but want to further reduce analysis time. However, shortening the analysis time would affect separation.
・When you apply i-PDeA, you can selectively visualize only the components you want to view, even peaks that are not separated!


Example 2: I want to correctly quantify the impurities that are eluted in the tailing of the main component peak.
・With i-PDeA, no additional consideration of separation conditions is required! Quantitative calculation can be done directly!

Compared to existing peak integration methods such as tailing (tangent skim method) and vertical separation (vertical skim method), i-PDeA permits quantitative calculation of impurities with higher precision!

Example 3: Separation of position isomer compounds fails to work well.
・Achieve separation using i-PDeA even though the spectral patterns are similar

Even though the difference in absorption wavelength between 1,2-dimethoxybenzene (274.2 nm wavelength) and 1,3-dimethoxybenzene (273.6 nm) is only 0.6 nm, the individual chromatograms can be obtained!