Function (Supports "Safe & Sure Management")
Supports paperless operation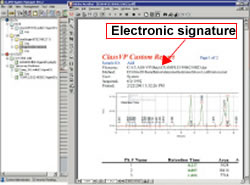 Registers PDF files with electronic signatures
Files in report print format (PDF, html) can also be registered to CLASS-Agent. Converting conventional paper-based records to electronic media enhances work efficiency and achieves more efficient utilization of space.
When CLASS-Agent (Ver2.0) saves data, it also saves the system configuration, methods, and operation status. All parameters can be subsequently reproduced to guarantee data integrity.
Electronic signatures can be applied to electronic records. *Supplement Data can be approved by viewing the contents of displayed PDF files. The electronic signature is saved with the analysis data as the signer's name, date signed, and reason.
CLASS-Agent can apply electronic signatures for user management and electronic records management that are common to any instrument.
Automatic saving of Excel® and other document and image data
CLASS-Archive Agent automatically registers documents (Word®, Excel®, PDF) and image files (e.g. microphotographs) contained in the PC hard disk to the CLASS-Agent database. This makes it easy to back up the files required for management. CLASS-Archive Agent automatically registers files from the Monitor folder to the CLASS-Agent database. Peak data can be automatically developed in the database when Andi-format analysis data is registered in the CLASS-Agent database.
Registered analysis reports created with Word® or Excel® can be linked to the original data by Agent Manager.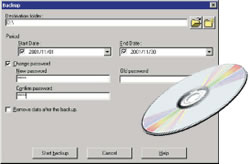 Easy backup
Backup to DVD-R or CD-R is supported as standard. The backup medium ID is managed in the system log for easy searching and the audit data is simultaneously backed up. Data backed up to DVD-R or CD-R can be directly browsed in CLASS-Agent Manager, without restoring the original database.
If the data is not registered in the networked database due to a problem with the network, the data will be temporarily stored on the hard disk of the local PC. When the problem is remedied, all the temporarily saved data is registered to the database where it should have originally been stored.
It's easy to apply strong security
Central user management and access control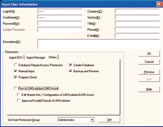 Users are managed centrally by the unique User Authentication Server and the access control prescribed in the regulations is applied to them. Restrictions can be applied to each user with access rights to prevent unauthorized users from inadvertently changing the settings.
Security measures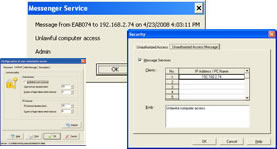 The password check functions designate the minimum password length, valid period, complexity, whether the same password can be re-registered, and how often. The active period and number of attempts can be designated for the user lockout and PC lockout functions that prevent illegal access.
According to the authentication conditions designated in the User Authentication Server, use by the user can be disabled or the illegal login can be notified by a message or email when an illegal login occurs (failure to login after the set number of attempts).
The fingerprint verification option can be used to recognize and authenticate users from biometric characteristics.
The user simply places a fingertip on the fingerprint reader for strict user authentication.--> Fingerprint verification Option
* EyeD HamsterTM III is a registered trademark of SecuGen Corporation.
Automatic operation log recording
An operation log is automatically maintained each time data is registered, stating when, who, what, and how. It can be easily checked at a later stage.
Log information meeting designate criteria can be selected for display.
Copying, deleting, and editing data are disabled if the ER/ES (Electronic Records/Electronic Signatures) mode was selected during installation.
Windows®, Word®, Excel®, and Internet Explorer® are registered trademarks of Microsoft Corporation.
This page may contain references to products that are not available in your country.
Please contact us to check the availability of these products in your country.