Function (Quick & Easy laboratory work)
Instantly find data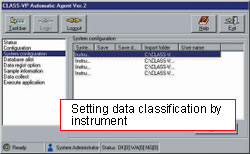 Data classification and automatic registration
Measurement data from HPLC, GC, GCMS, LCMS, FTIR, UV, and AA spectrophotometers, thermal analyzers, TOC, and electronic balances are automatically collected and registered in a database. The collected data can be automatically classified by registration destination, instrument name, sample name, analyst name, or date of analysis. Data for each project can be automatically collected and shared.
Required information compressed into one file and saved
Related information such as chromatograms, spectra, methods, quantitative calculation results, analysis report images (PDF format) and Andi-format data are compressed into one file, saved and managed together. This is extremely convenient for browsing the database to subsequently extract method files, or other required files.
Data searching
CLASS-Agent Manager makes it easy to search for target data by sample name, analysis date, instrument name, or analyst name as keywords. It is possible to search for all analysis data obtained for samples with names containing a specific character string within a specified period, for example. It is also easy to conduct searches based on the sample name, sample ID, or file name, and the search conditions can be saved for future use.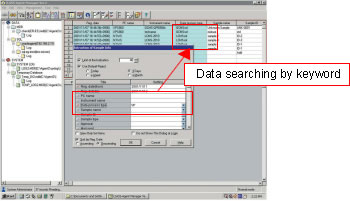 Data organization

Select data to browse the chromatograms and quantitation calculation results on the same window. This is extremely convenient for data organization. Files can be simply dragged and dropped for easy data organization. This makes it easy to compile the required data for the intended use.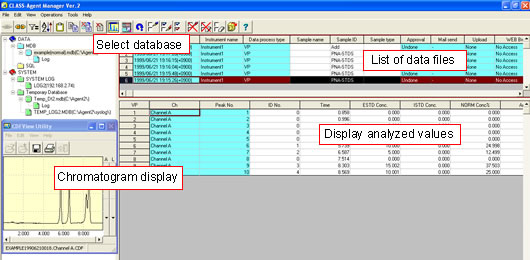 Browse Laboratory Data from an Office or Other Remote Location
Analysis and approvals in the office
A simple LAN connection allows the user to easily access data from a remote laboratory on a laptop computer for re-analysis or approval. Multiple users can browse the information simultaneously. Methods and schedules from instruments in other rooms can be shared to enhance the efficiency of laboratory analysis and measurement tasks.
CLASS-Agent supports Microsoft Access®, Microsoft Data Base Engine® (MSDE), Microsoft SQL Server®, and Oracle® databases.
Browse data remotely with a web browser
Installing the optional CLASS-Agent WebManager in the server PC permits browsing of the data saved in the CLASS-Agent database using Internet Explorer®, without the need to install special browser software in the client PC.-->CLASS-Agent Web Manager
Efficient Report Generation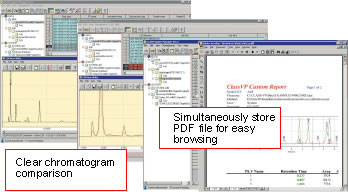 Browse Numerical Data, Chromatograms, and UV / FTIR Spectra
Preview display and multiple display of chromatograms and UV / FTIR spectra are available. It is easy to copy and paste numerical data for chromatograms and spectra into MS Word or Excel documents.
It is also easy to browse print image files of reports output in PDF format.
LCMSsolution and GCMSsolution chromatograms cannot be displayed.
Spectrum display is supported only for data obtained from UVProbe or IRsolution.
Display Lists of Multiple Data;Smooth Linking to Excel® and Word®
Multiple analysis results can be easily compiled.
Search for the target data with CLASS-Agent Manager. It is easy to create reports by selecting the required parts of the numerical data or graphs and using mouse operations to cut and paste them into Excel® and Word®. This eliminates the possibility of input errors.
Alternatively, the selected numerical data can be exported to a pre-prepared report format (such as an Excel® worksheet). It is then possible to automatically: Run Excel® --> Read File--> Macro --> Print.
The optional CLASS-Agent Report software offers compliance with all Part 11 requirements for Excel® calculations, which was previously impossible.
--> CLASS-Agent Report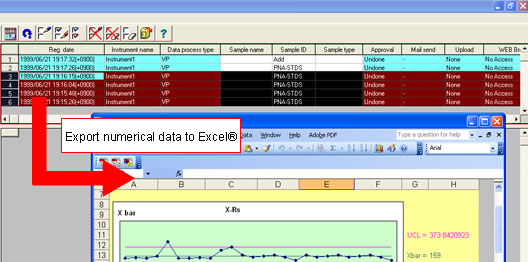 Data is compiled for data management
Support for various models
The same database can handle measurement data from all laboratory instruments, including HPLC, GC, GCMS, LCMS, FTIR, UV, and AA spectrophotometers, thermal analyzers, TOC, and electronic balances. Network-compatibility permits central management of data from all instruments in the server PC and easy browsing of the data at a client PC.
Compatible with analytical instruments from other vendors
CLASS-Public Agent provides analysis data compatibility with instruments such as HPLC, GC, dissolution testers, titrators, and moisture meters from other vendors. CLASS-Public Agent is software that automatically registers measurement results in text format from general measuring instruments to the CLASS-Agent database. In the designated format (text format), raw data and report data can be registered in addition to numerical data.

Windows®, Word®, Excel®, Internet Explorer®, MSDE®, and SQL Server® are registered trademarks of Microsoft Corporation. Oracle® is a registered trademark of Oracle Corporation.
This page may contain references to products that are not available in your country.
Please contact us to check the availability of these products in your country.