Easy and efficient method scouting for separating chiral compounds
Easy and efficient method scouting for separating chiral compounds
Automatically performs a variety of method scouting processes
The high-speed performance of SFC can shorten the time required for method scouting. It automatically generates a large number of methods by utilizing combinations of up to 12 columns, four modifiers, and a different ratios of modifiers to mobile phase.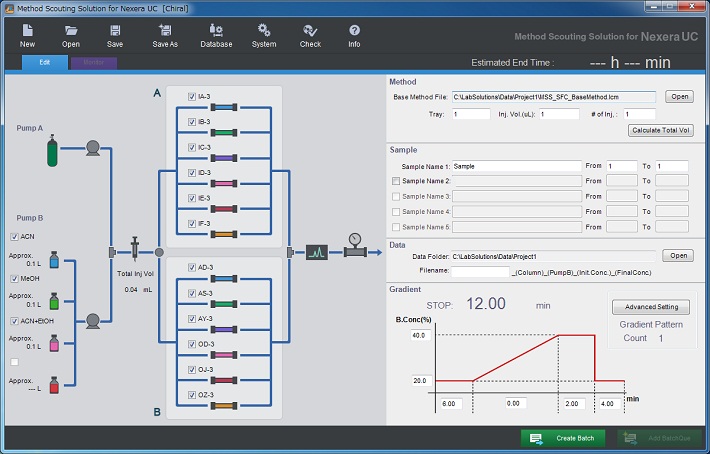 A screen shot of Method Scouting Solution for Nexera UC user interface.
Chiral analysis with "Nexera UC Chiral Screening System"
CHIRALPAK® Series and CHIRALCEL® Series columns (Daicel Corporation) for chiral analysis are capable of resolving a wide variety of compounds by showing complementary separation targets. The combination of the Nexera UC Chiral Screening System and these columns simplifies method scouting for chiral analysis.

CHIRALPAK® and CHIRALCEL® are registered trademarks of Daicel Corporation.
For Research Use Only. Not for use in diagnostic procedures.
This page may contain references to products that are not available in your country.
Please contact us to check the availability of these products in your country.