RedDot Design Award 2019
The Shimadzu Nexera Ultra High-Performance Liquid Chromatograph series and the UV-1900 UV-VIS Spectrophotometer have been awarded Red Dot Award 2019 winner prizes in the product design category of the Red Dot Design Award.
The Red Dot Design Award is one of the 3 major design awards in the world, alongside the German iF Design Award and the US IDEA Award. This year manufacturers and designers from 55 countries submitted the designs of more than 5500 products to the product design category. Based on the quest for "excellent design and innovation," experienced designers in various fields judge products based on innovation, functionality, quality, ergonomics, and durability. An actual Nexera series instrument and an explanatory panel showing the UV-1900 will be displayed in the Red Dot Museum in the city for the next year. https://www.red-dot-design-museum.org/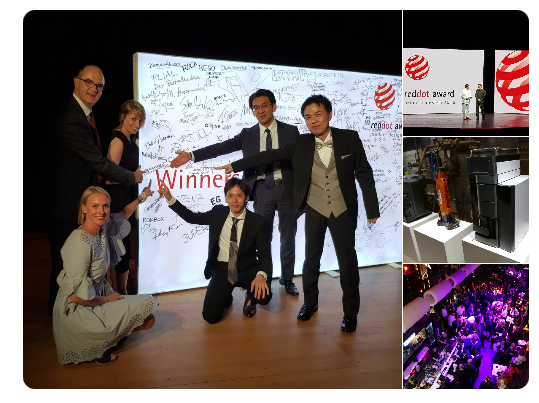 The Nexera Ultra High-Performance Liquid Chromatograph Series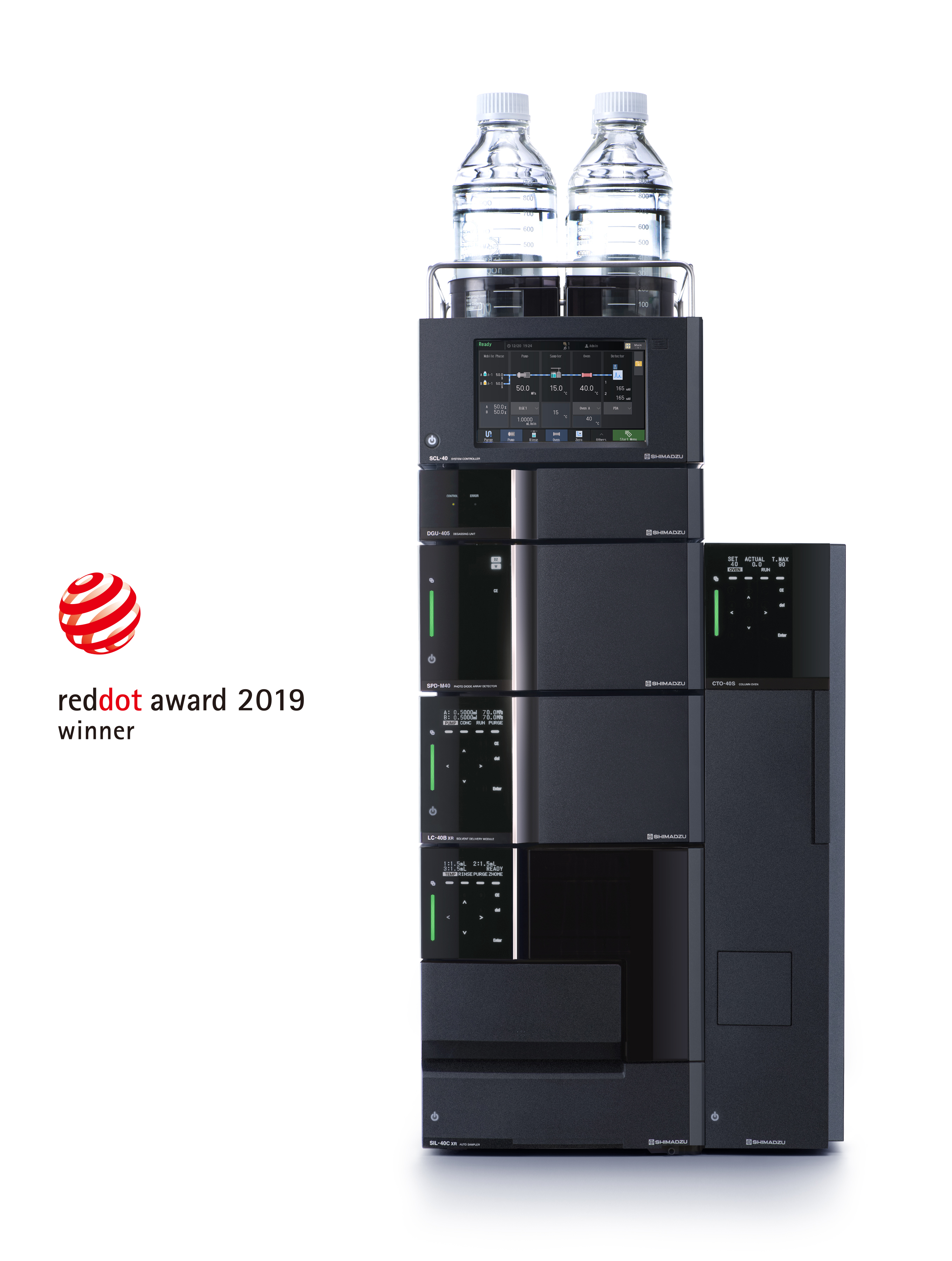 A high-performance liquid chromatograph is a device that pressurizes a liquid and efficiently separates and detects analytes by the differences in interaction between the stationary and mobile phases. The "Nexera Series" reduces the installation footprint by 40% compared to existing models, while increasing the number of autosampler samples that can be measured by 1.5. By incorporating IoT and various sensing technologies, the instruments achieve ultra-high-speed and ultra-high-speed volume multi-sample analysis.
Statement by the Jury
The design of Nexera combines straightforward lines with open asymmetries, giving rise to a very clear arrangement of the modules.
In-house design:
Hyeri Kang
Ryo Takegawa
The UV-1900 UV-VIS Spectrophotometer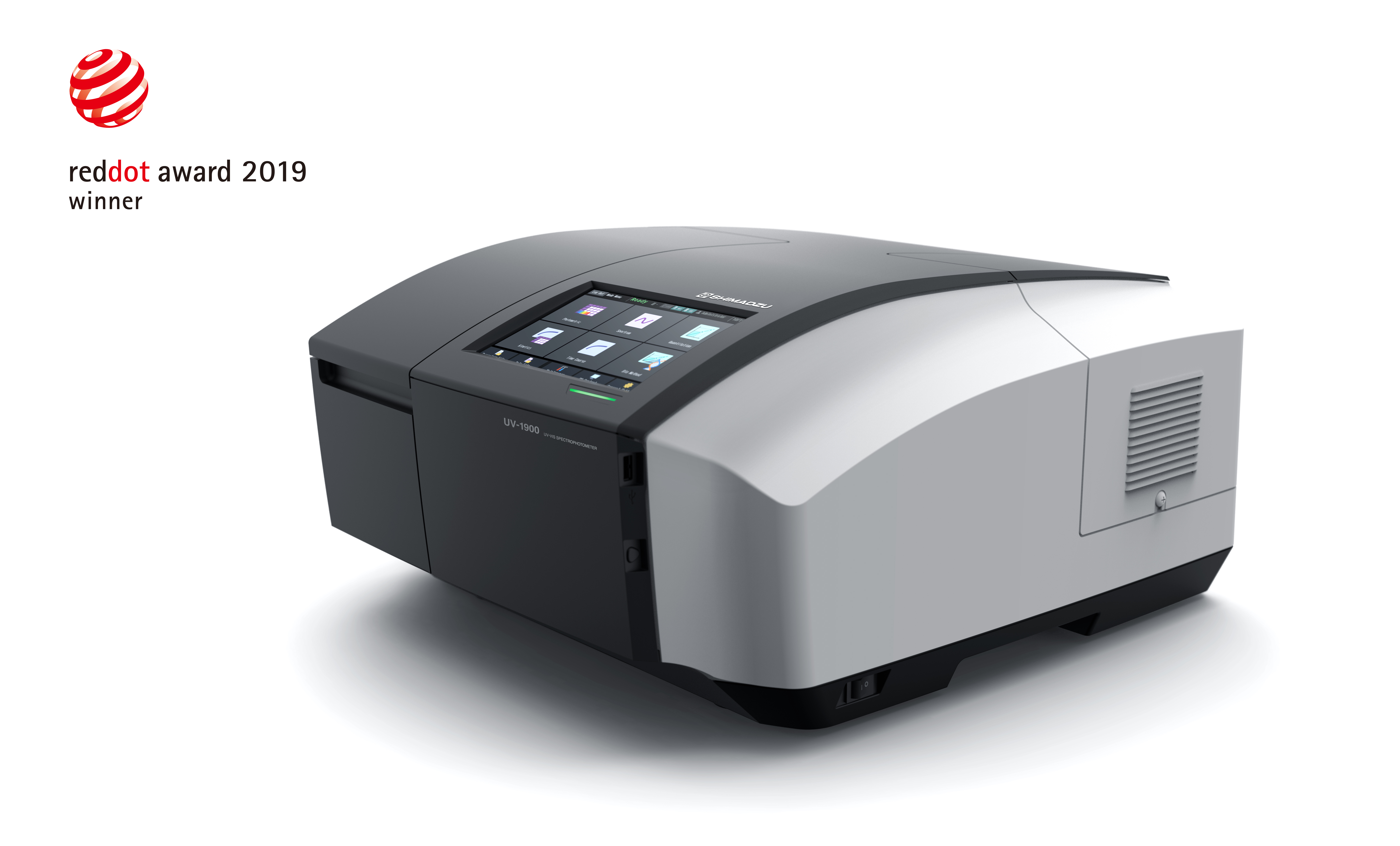 Spectrophotometers are devices that measure the intensity of light absorption and emission of chemical substances. The UV-1900 has introduced the ultra-high-speed scanning function that enables data acquisition at 29,000 nm/min (it takes about 3 seconds in the visible light range), the fastest level in the industry. It is the first Shimadzu spectrometers to use a color touch panel and the system also supports five languages including Spanish and Portuguese.
Statement by the Jury
The UV-1900 captivates with its distinctive design, which is characterised by light-dark contrasting and skilfully draws attention to the touchscreen.
In-house design:
Masakuni Tachi
Ryo Takegawa
NRW.INVEST NAGRADA 2018
Ovogodišnja NRW.INVEST nagrada dodjeljena je američkoj on-line trgovini Amazon, britanskoj tvrtki Computacenter, japanskoj visokotehnološkoj (eng. high-tech) korporaciji Shimadzu i kineskom dobavljaču automobila Yanfeng Automotive Interiors.
Shimadzu:
Japanska tvrtka Shimadzu je vodeći svjetski proizvođač i dobavljač analitičkih instrumenata, labaratorijske tehnologije i medicinskih uređaja. Osnovana još 1875. godine, u Düsseldorfu utemeljena 1968., a od 1987. u Duisburgu ima svoje europsko sjedište. Tijekom prošle godine otvoren je Shimadzu europski inovacijski centar: trust mozgova (eng. think tank) koji kombinira akademsko i tehničko znanje koje se razvija u specifična inovativna rješenja kupcima. Shimadzu zapošljava oko 230 ljudi u NRW-u.
RedDot Design Award 2018
IRSpirit - FTIR Spectrophotometer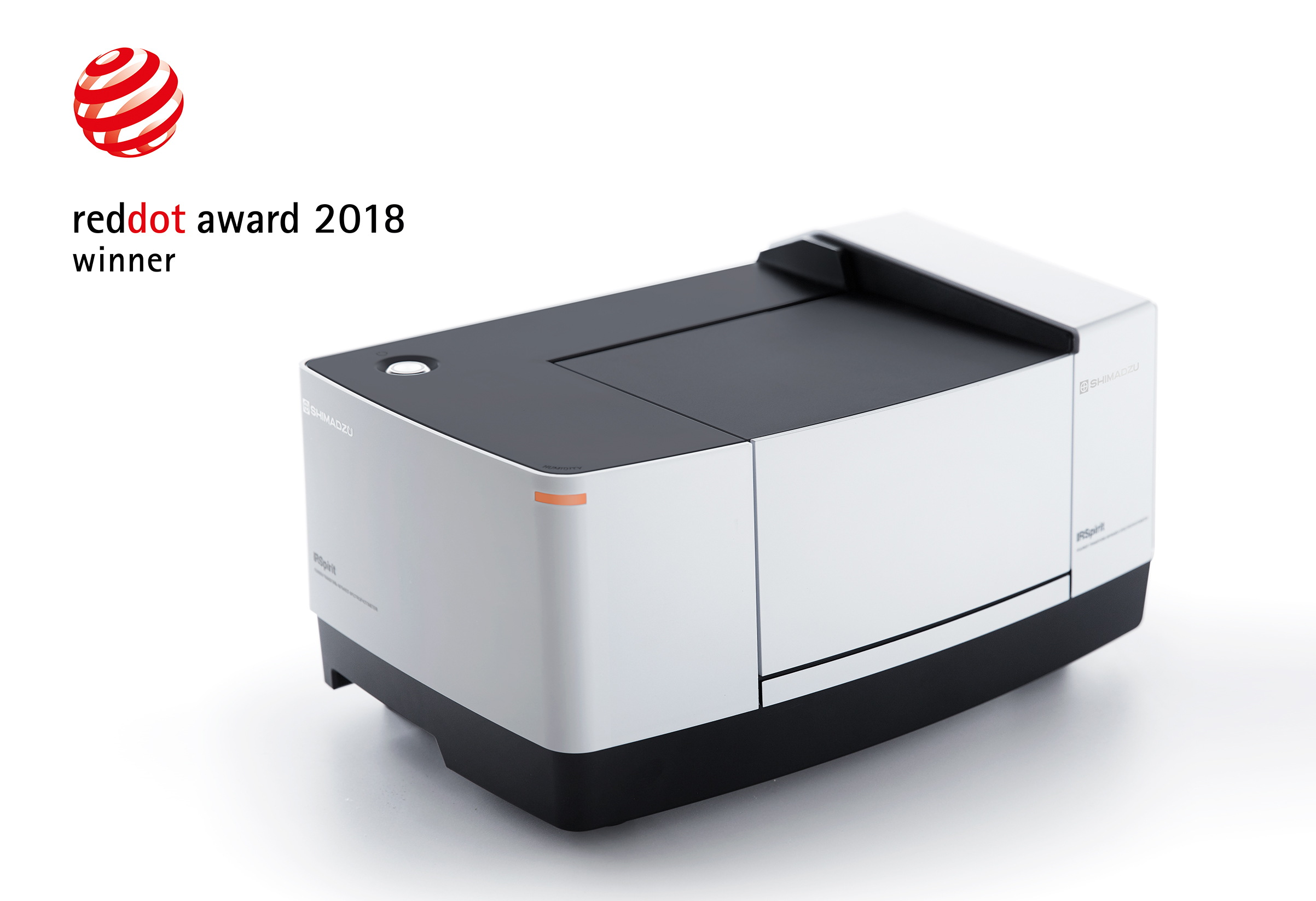 Infracrveni spektrofotometar IRSpirit s Fourierovom transformacijom determinira molekularnu strukturu i kvalificira nepoznate uzorke temeljene na infracrvenom apsorpcijskom uzorku koji je jedinstven za svaku tvar. Uzimajući u obzir da većina laboratorija ima ograničen prostor, predmetni uređaj zauzima prostor manji od formata A3 papira te je pristupačan za korištenje s prednje i bočne strane. Širok raspon asortimana pruža razne dodatne tehničke nadogradnje.
Mišljenje stručnog žirija:
IRSpirit privlači uravnoteženu geometriju koja, u kombinaciji s crno-bijelim kontrastom, naglašava impresivnu kompaktnost.
AIM-9000 - Infracrveni mikroskop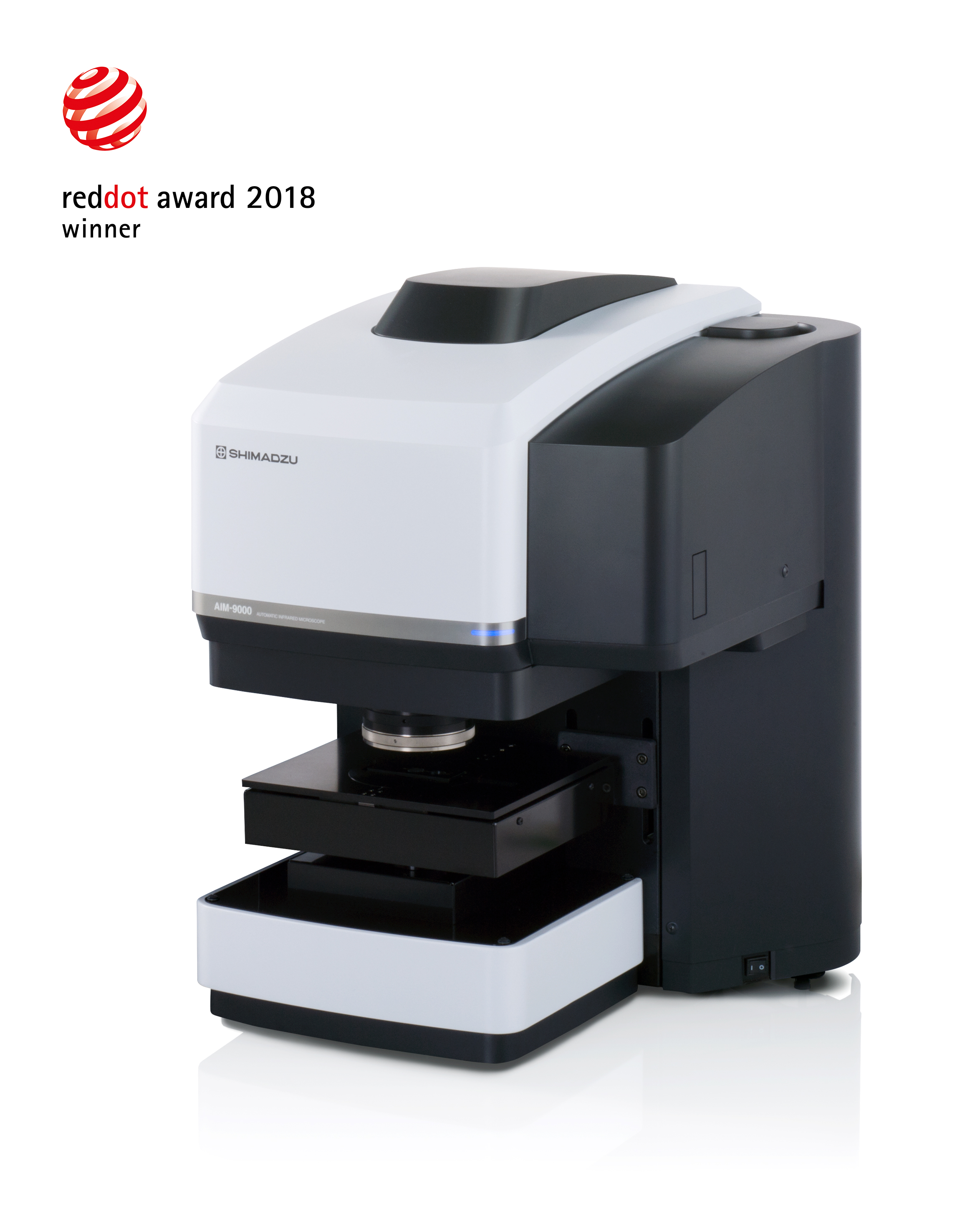 Infracrveni mikroskop AIM-9000 se koristi za analizu materijala u mikrometarskom rasponu u kombinaciji sa specijalnim spektrometrom. Instrument je opremljen raznim automatiziranim funkcijama koje pomažu korisniku u svakom koraku korištenja uređaja. To značajno smanjuje vrijeme i trud koje je inače potrebno za pripremu i stvarnu analizu podataka. Precizan dizajn uređaja korelira s visokom funkcionalnošću i uistinu ostavlja dojam snažnog mjernog instrumenta.
Mišljenje stručnog žirija:
Kohezivni dizajn infracrvenog mikroskopa AIM-9000 koji utjelovljuje estetiku jasnoće, koja vješto ističe jednostavnost uporabe.