Antimicrobial Screening System
i-Series Food Safety Analyzer
i-Series Solution Package i-Series Food Safety Analyzer
Screening of 24 Synthetic Antimicrobial Compounds That Remain in Meat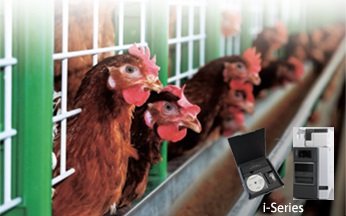 Synthetic antimicrobial agents are used as animal drugs and feed additives and they are known to remain in the body of farm animals. Residue limits prescribing the safe ingestible amounts of such agents have been set so that people can safely eat meat and processed meat products. Thanks to a pretreatment method*1 that minimizes the influence of impurities in meat (beef, pork, and chicken muscle), LC system enables screening of 24 synthetic antimicrobial compounds, which are regulated in Japan, Europe, and other regions, remaining in meat.
*1: Consumables for pretreatment are not included in the package. They need to be provided by the customer.
Three Features
Optimized pretreatment method and two detectors support screening of 24 synthetic antimicrobial compounds.
Detects synthetic antimicrobial agents of the standard residual concentration with high sensitivity.
Displays screening results immediately after analysis is finished.
Target Compounds of the Antimicrobial Screening System

Detects Synthetic Antimicrobial Agents of the Standard Residual Concentration with High Sensitivity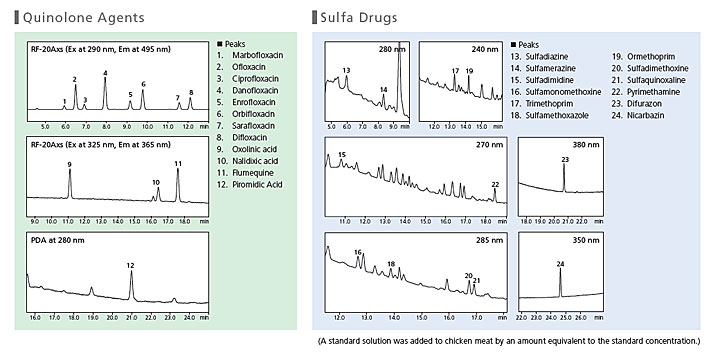 Displays Results Immediately After Analysis Is Finished
Measurement results for each sample can be automatically created as quantitative reports and summary reports and output in PDF. Use of the multi-data report creation function makes it easier to view large amounts of data.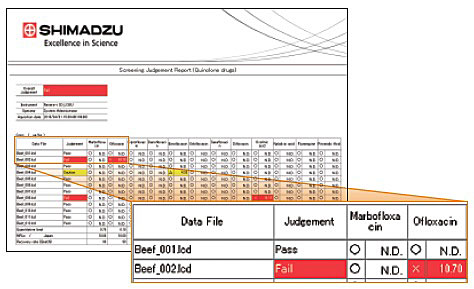 The synthetic antimicrobial agents screening kit includes information and data that have been obtained by Shimadzu Corporation for the purpose of screening for synthetic antimicrobial agents remaining in meat. Avoid using the kit for purposes other than its intended purpose.
Customers are responsible for how any results from the use of this kit are used.
Standard residual concentrations are determined according to the laws and regulations below.
Ministerial Notification No. 297 of the Japan's Ministry of Health, Labour and Welfare
Development of applicable laws and regulations for the enforcement of Item 3, Article 11 of Japan's Food Sanitation Act revised based on the partial revision of the Food Sanitation Act Issued by Dept. of Food Safety, Pharmaceutical and Food Safety Bureau, Ministry of Health, Labour and Welfare (No. 1129001) on November 29, 2005 (final revision: May 31, 2007)
For Research Use Only. Not for use in diagnostic procedures.

This page may contain references to products that are not available in your country.
Please contact us to check the availability of these products in your country.