Analysis of Monoclonal Antibodies and Antibody Drug Conjugates (ADCs) / nSMOL
Novel method of sample preparation for LCMS bioanalysis of monoclonal antibody in blood
nSMOL (nano-surface and molecular orientation limited proteolysis) is Shimadzu's proprietary, innovative technique that enables selective proteolysis of the Fab region of monoclonal antibodies. The nSMOL Antibody BA Kit is a ready-to-use reagent kit for collecting monoclonal antibodies from blood or other biological samples using immunoglobulin collection resin, and then performing selective proteolysis of the Fabregion of these antibodies via trypsin-immobilized nanoparticles. Variable region-derived peptides produced by limited proteolysis can then be quantified via MRM measurements utilizing a high-performance LCMS-8050/8060 triple quadrupole liquid chromatograph mass spectrometer.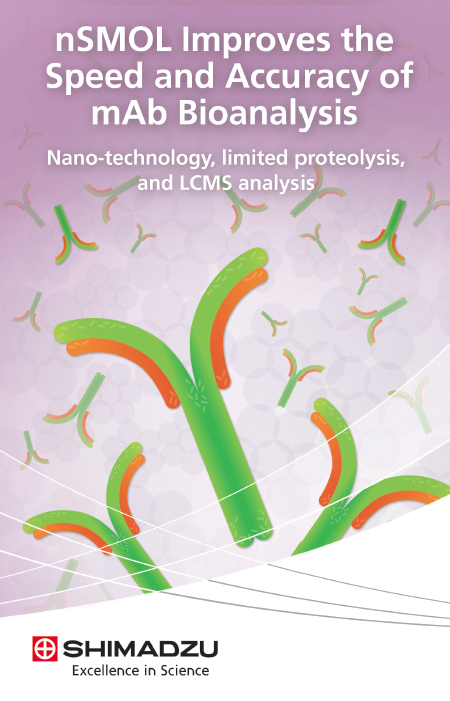 nSMOL
Novel method of sample preparation for lCMS bioanalysis of monoclonal antibodies in blood
Applications using the nSMOL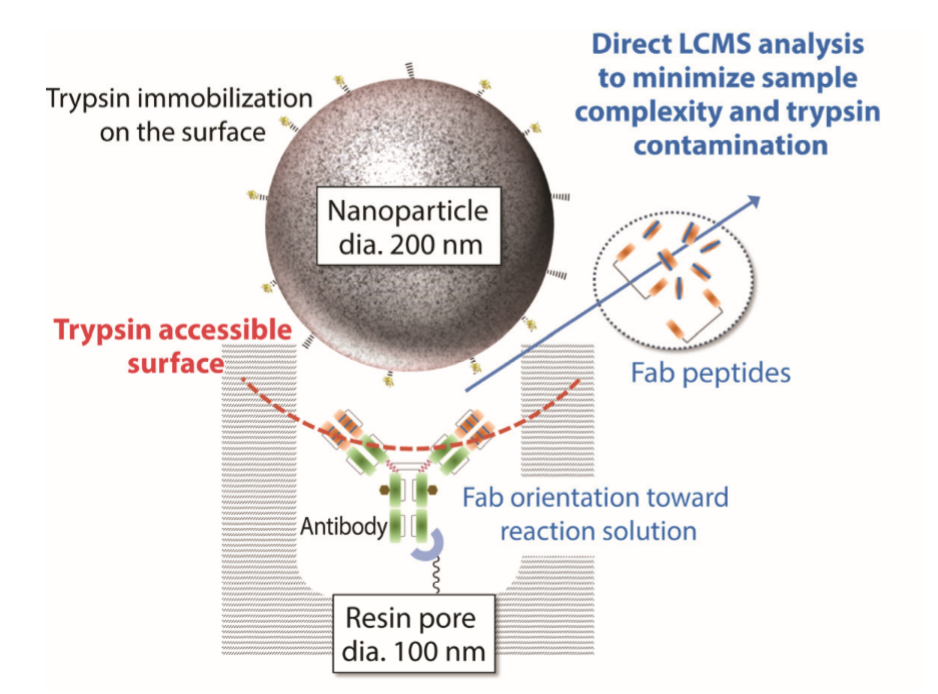 nSMOL is Shimadzu's completely new and breakthrough technology that enables selective proteolysis of the Fab region of monoclonal antibodies. This technique facilitates method development independent of a variety of antibody drugs and achieves a paradigm shift in the bioanalysis of antibody drugs. Furthermore, this is the only method with respect to antibody drugs that has fulfilled the criteria of "Guideline on Bioanalytical Method Validation in Pharmaceutical Development" for low MW drug compounds issued by the Japanese Ministry of Health, Labour and Welfare. Shimadzu also offers optimization methods and protocols, and nSMOL can be applied to clinical research at various institutions.
LCMS Bioanalysis Solved with the nSMOL Method Pharmacokinetic information provides some of the most fundamental indicators. The effective drug discovery is supported by the overall pharmacokinetic profile such as drug efficacy and toxicity. While the enzyme-linked immunosorvent assay (ELISA) has been the current way to measure blood concentration until now, there are essential issues due to the effects of cross-reactivity and inhibitory substances. On the other hand, mass spectrometry may be able to solve these issues because of structure-indicated analysis. Nevertheless, mass spectrometry has several issues. In particular, direct quantitation analysis (top-down proteomics) of complex matrices, such as plasma, is not suitable for repeat analysis because the ESI interface cannot be maintained due to the large excess analytes.
LCMS Bioanalysis of Antibody Drugs Using Fab-Selective Proteolysis nSMOL – Trastuzumab analysis –
LCMS Bioanalysis of Antibody Drugs Using Fab-Selective Proteolysis nSMOL: Part 2 – Bevacizumab analysis –
LCMS Bioanalysis of Antibody Drugs Using Fab-Selective Proteolysis nSMOL: Part 3 – Nivolumab analysis –
LCMS Bioanalysis of Antibody Drugs Using Fab-Selective Proteolysis nSMOL: Part 4 – Multiplex Analysis –
LCMS Bioanalysis of Antibody Drugs Using Fab-Selective Proteolysis nSMOL: Part 5 – Instrument comparison of precision and accuracy –
LCMS Bioanalysis of Antibody Drugs Using Fab-Selective Proteolysis "nSMOL Method": Part 6 – Improvement of Reaction Conditions for Automated Analyses –
Microflow LC-MS/MS Analysis of Monoclonal Antibody in Human Plasma at ng/mL Level with nSMOL Proteolysis